Customized Presentation Design Services For Successful Business Communication.​
I offer a variety of Presentation services.
Custom PowerPoint Templates
My corporate presentation design services include custom PowerPoint templates for your business. You will receive a powerful tool to save resources and enhance the appearance of your presentations according to your corporate image. My PowerPoint designs will help you showcase your work to the world in the best possible way.
Quickly create impressive presentations with customized, user-friendly PowerPoint templates that offer design and performance.
Customized PowerPoint templates with user-friendly guide facilitate handling, maintaining integrity and consistency of presentations.
Consistent, customized PowerPoint templates based on your brand, incorporating color schemes, typography, and screen settings.
I offer diverse, purpose-driven layout options for customized PowerPoint templates to find the ideal solution for your business.
Customized PowerPoint templates simplify sharing presentations by streamlining the release process and maintaining slide integrity.
Customized image placeholders
Individual, brand-specific shapes for images enhance visual impact and excitement in professional PowerPoint presentations and template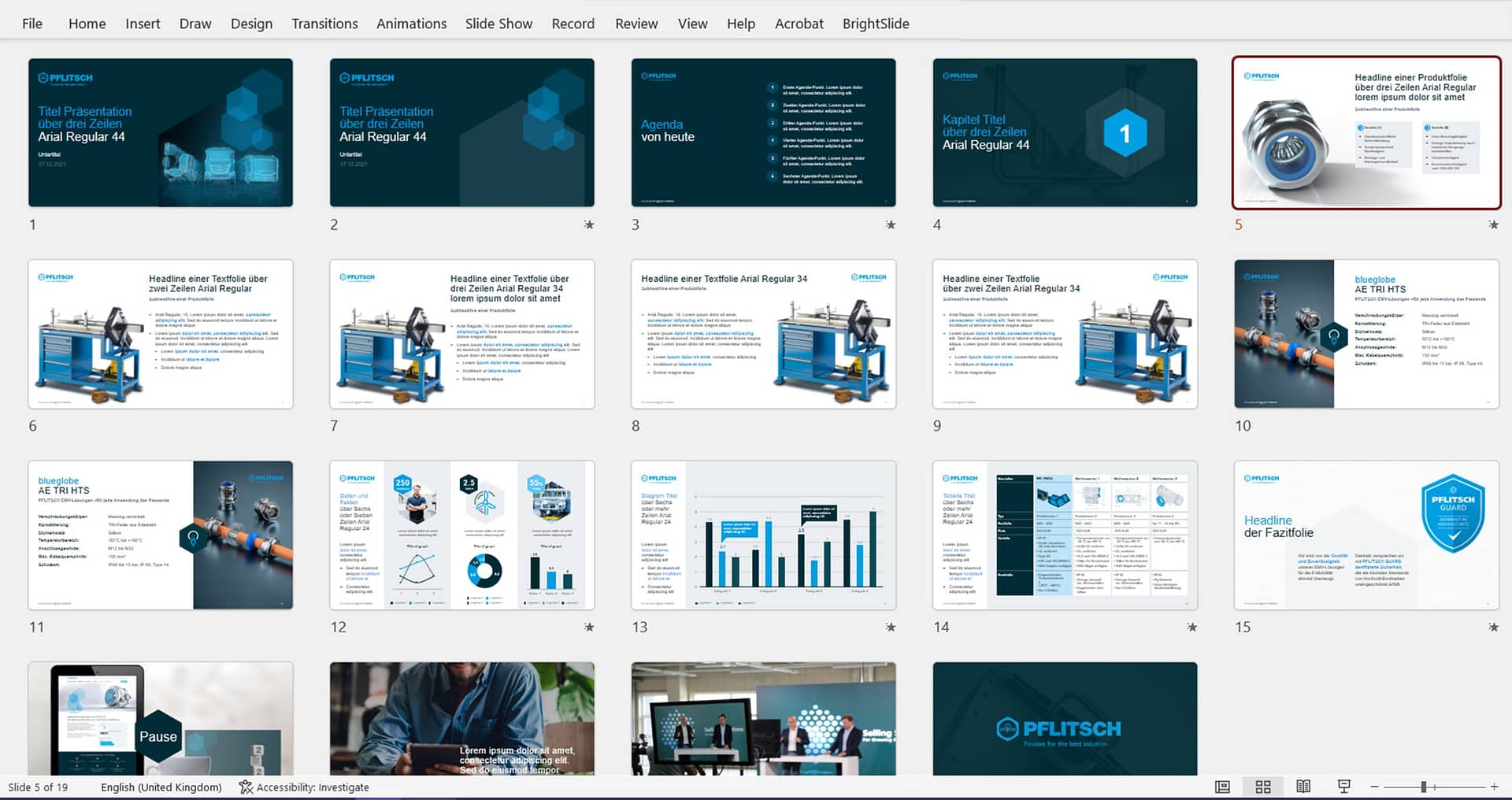 Together, we dive deep into your company goals, brand, target audience, and content to capture the most important elements for you
Enhance your core messages with custom, animated visuals by a freelance PowerPoint designer to bring your story to life.
Communicate your content effectively and memorably with custom images and animations in PowerPoint templates to achieve desired results.
Compliance with corporate guidelines
As a professional freelance PPT designer, I incorporate brand guidelines and highlight your corporate identity in both text and images with my expertise.
With the help of a freelance PowerPoint designer, you will be involved throughout the entire process, and we will work together to achieve the optimal result. Whether you need a visual presentation to support your speech or a thoroughly researched presentation filled with facts and figures, I will design a PowerPoint presentation that looks exactly as you envisioned it.
Investor & Start-Up Decks
Each presentation is customized to your unique vision and objectives, ensuring your message is conveyed in the most impactful way.
Creative & Engaging Designs
I employ innovative design techniques to create engaging, visually appealing decks that hold your audience's attention from start to finish.
In-depth Understanding of Investors & Startups
Leveraging years of experience, I know what investors and startups look for in presentations, enabling me to create decks that resonate with your target audience.
Respect for your time is a priority. My streamlined process guarantees high-quality investor and startup decks within a timely manner, without compromising on quality.
Enhanced Clarity & Impact
I meticulously refine your content to ensure it delivers the desired impact, improving clarity and effectiveness of your message.
Consistent & Professional Aesthetics
I ensure your presentation maintains a consistent visual theme throughout, reflecting your brand's identity and enhancing its professional appeal.
I optimize each slide for content and design balance, ensuring your audience remains engaged and can easily absorb the information.
Your input is crucial. I efficiently integrate any feedback or revisions into your presentation, making it truly a collaborative effort.
Revision of Presentations
Whether it's designing custom PowerPoint templates or creating pitch decks that help you achieve your goals.